Epidemiology of primary knee replacement in St. Carolus Hospital from 2016-2020: a descriptive study
Keywords:
Artrhoplasty, Knee Replacement
Abstract
Introduction: The purpose of this study was to describe the characteristics among total knee replacement (TKR) patients in St. Carolus Hospital from year 2016-2020 as the surrogate model for the non-existing National Joint Registry.
Methods: Data were extracted from the TKR registry data of a single institution from 2016-2020. Patient demographic data were collected. Intraoperative characteristics were defined as: (1) Utilization of computer navigation system; (2) Type of implants; (3) Type of tibial component; (4) Implant name. Post-operative characteristics were defined as: (1) Length of hospitalization (days); (2) Complication rate (%); (3) Revision event (%). The complication rate included: (1) Deep vein thrombosis; (2) Prosthetic joint infection; (3) Periprosthetic fracture.
Results: A total of 784 primary TKR procedures were performed in 5 years. The average age of the patients was 68.2 years. The metal back tibial component was used more (64%) compared to all polyethylene tibia, meanwhile cruciate-retaining was the most frequent type of implant (74%). The utilization of computer navigation systems was 67%. The average length of hospitalization was 4.3 days. The complication rate was low (6.2%) and the revision rate was 0.3%.
Conclusion: The complication and revision rate following primary TKR was low at our institution's joint registry. Our data provides the characteristic of TKR in Indonesia as the mini joint registry of the country, thus necessitate collaboration with multiple centres to achieve a comprehensive national joint registry.
Level of Evidence: Descriptive study, level III
Downloads
Download data is not yet available.
References
References
Singh JA. Epidemiology of Knee and Hip Arthroplasty: A Systematic Review. The Open
Orthopaedics Journal. 2011;5(1):80–5.
Lin F-H, Chen H-C, Lin C, Chiu Y-L, Lee H-S, Chang H, et al. The increase in total knee
replacement surgery in Taiwan. Medicine. 2018;97(31).
Mufarrih SH, Aqueel T, Ali A, Malik AT, Noordin S. Unilateral vs. bilateral total knee
arthroplasty with 90-day morbidity and mortality: A retrospective cohort study. International
Journal of Surgery Open. 2017;8:24–8.
Lübbeke A, Silman AJ, Prieto-Alhambra D, Adler AI, Barea C, Carr AJ. The role of national
registries in improving patient safety for hip and knee replacements. BMC Musculoskeletal
Disorders. 2017;18(1).
Porter M, Armstrong R, Howard P, Porteous M, Wilkinson JM. Orthopaedic registries – the UK
view (National Joint Registry): impact on practice. EFORT Open Reviews. 2019;4(6):377–90.
de Steiger RN, Graves SE. Orthopaedic registries: the Australian experience. EFORT Open
Reviews. 2019;4(6):409–15.
Kasus Covid-19 Pertama, Masyarakat Jangan Panik [Internet]. Laman Resmi Republik
Indonesia • Portal Informasi Indonesia. [cited 2021Apr2]. Available from:
https://indonesia.go.id/narasi/indonesia-dalam-angka/ekonomi/kasus-covid-19-pertama
masyarakat-jangan-panik
Lin F-H, Chen H-C, Lin C, Chiu Y-L, Lee H-S, Chang H, et al. The increase in total knee
replacement surgery in Taiwan. Medicine. 2018;97(31).
Sebastian S, Malhotra R, Dhawan B. Prosthetic Joint Infection: A Major Threat to Successful
Total Joint Arthroplasty. Indian Journal of Medical Microbiology. 2018;36(4):475–87.
Wang F-D, Wang Y-P, Chen C-F, Chen H-P. The incidence rate, trend and microbiological
aetiology of prosthetic joint infection after total knee arthroplasty: A 13 years' experience from a
tertiary medical center in Taiwan. Journal of Microbiology, Immunology and Infection.
;51(6):717–22.
Rezapoor M, Parvizi J. Prevention of Periprosthetic Joint Infection. The Journal of
Arthroplasty. 2015;30(6):902–7.
Edmiston CE, Okoli O, Graham MB, Sinski S, Seabrook GR. Evidence for Using
Chlorhexidine Gluconate Preoperative Cleansing to Reduce the Risk of Surgical Site Infection.
AORN Journal. 2010;92(5):509–18.
Tokarski AT, Blaha D, Mont MA, Sancheti P, Cardona L, Cotacio GL, et al. Perioperative
Skin Preparation. The Journal of Arthroplasty. 2014;29(2):26–8.
Bosco JA, Bookman J, Slover J, Edusei E, Levine B. Principles of Antibiotic Prophylaxis in
Total Joint Arthroplasty. Journal of the American Academy of Orthopaedic Surgeons. 2015;23(8).
George MJ. Methods of DVT Prophylaxis after Total Knee Arthroplasty. Primary Total Knee
Arthroplasty. 2018;
Hamilton WG, Reeves JD, Fricka KB, Goyal N, Engh GA, Parks NL. Mechanical
Thromboembolic Prophylaxis With Risk Stratification in Total Knee Arthroplasty. The Journal of
Arthroplasty. 2015;30(1):43–5.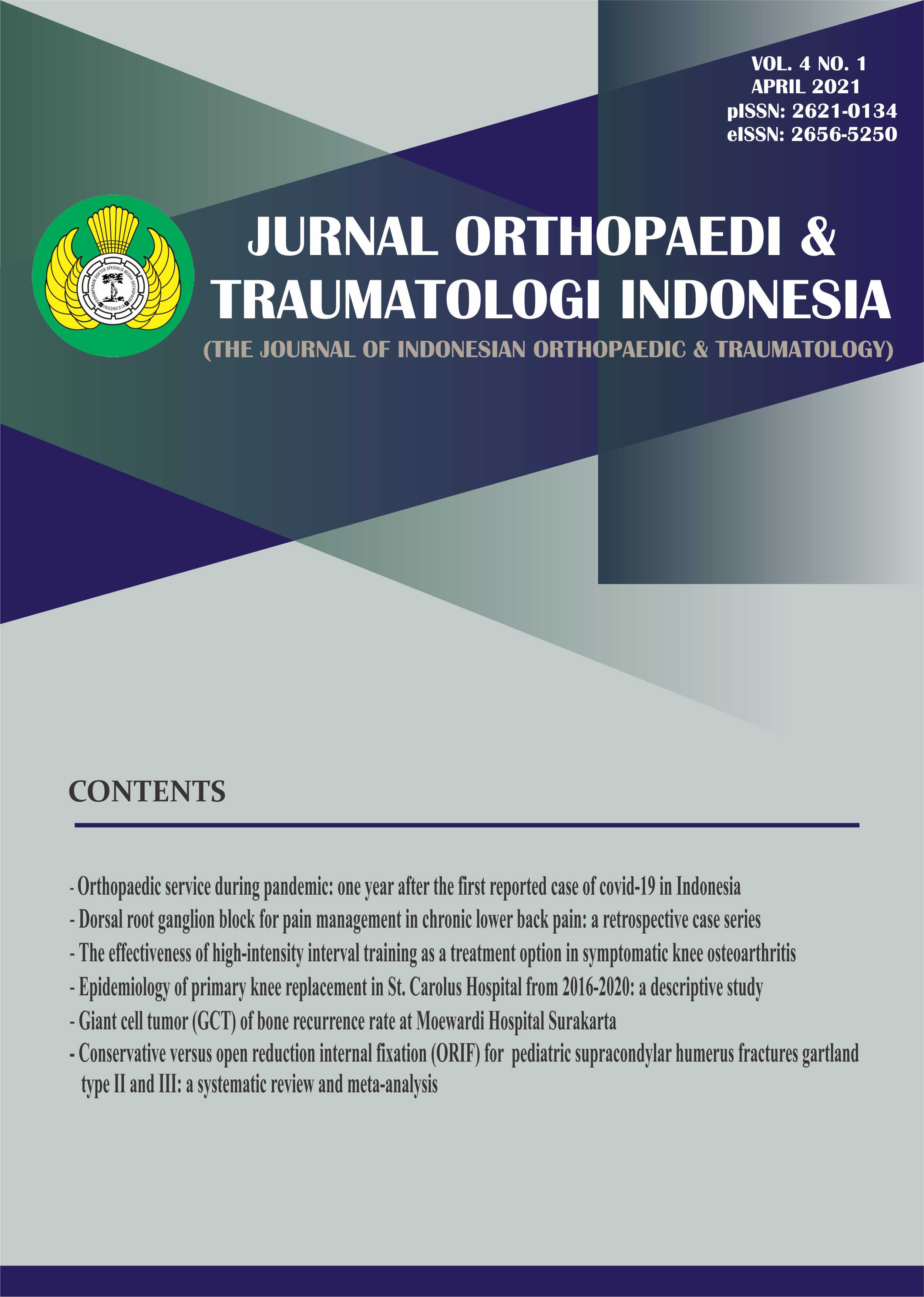 Additional Files
Section
Original Research Article