The effectiveness of high-intensity interval training as a treatment option in symptomatic knee osteoarthritis
Keywords:
high-intensity interval training, HIIT, osteoarthritis, exercise, treatment options
Abstract
One of the most often musculoskeletal disorders in adults is osteoarthritis, which occurs due to degenerative processes in the joints, through wear and tear mechanism, especially in the articular cartilage. The treatment options for osteoarthritis are classified into symptomatic therapy and disease modification therapy. However, many people who suffer from osteoarthritis have limitations in their daily activities, thus preventing them from modifying their lifestyles. Many types of exercise exist, yet the best exercise for symptomatic osteoarthritis hasn't been found. In daily practices, Moderate Intensity Continuous Training (MICT) is the most recommended and the type of exercise commonly performed by patients with OA because MICT has a range of cardiovascular health benefits and maintains body weight. However, MICT may not provide enough stimulus to increase lower muscle mass and strength, articular changes that might contribute to the pain, stiffness, and functional limitations seen in patients with knee OA. Some new studies found that High-Intensity Interval Training (HIIT) is more efficient than MICT as a classic exercise after six to eight weeks of exercise. HIIT in symptomatic osteoarthritis can significantly improve a patient's
fitness, visceral fats, and symptoms. HIIT can be a treatment option in resolving symptomatic knee osteoarthritis.
Downloads
Download data is not yet available.
References
Cui A, Li H, Wang D, Zhong J, Chen Y, Lu H. Global, regional prevalence, incidence and risk factors of knee osteoarthritis in population-based studies. EClinicalMedicine [Internet]. 2020 Dec 1 [cited 2021 May 18];29. Available from: https://www.thelancet.com/journals/eclinm/article/PIIS2589-5370(20)30331-X/abstract
Department of Economic and Social Affairs. World Population Ageing 2019 : Highligts.
Blom A, Warwick D, Whitehouse M, Solomon L, editors. Apley & Solomon's system of orthopaedics and trauma. Tenth edition. Boca Raton: CRC Press; 2017.
Miller MD, Thompson SR, editors. Miller's review of orthopaedics. Seventh edition. Philadelphia, PA: Elsevier; 2016. 891 p.
Kohn MD, Sassoon AA, Fernando ND. Classifications in Brief: Kellgren-Lawrence Classification of Osteoarthritis. Clin Orthop. 2016 Aug;474(8):1886–93.
Jüni P, Reichenbach S, Dieppe P. Osteoarthritis: rational approach to treating the individual. Best Pract Res Clin Rheumatol. 2006 Aug;20(4):721–40.
Fernandes L, Hagen KB, Bijlsma JWJ, Andreassen O, Christensen P, Conaghan PG, et al. EULAR recommendations for the non-pharmacological core management of hip and knee osteoarthritis. Ann Rheum Dis. 2013 Jul;72(7):1125–35.
Villafañe JH. Exercise and osteoarthritis: an update. J Exerc Rehabil. 2018 Aug 24;14(4):538–9.
Hurley M, Dickson K, Hallett R, Grant R, Hauari H, Walsh N, et al. Exercise interventions and patient beliefs for people with hip, knee or hip and knee osteoarthritis: a mixed methods review. Cochrane Database Syst Rev. 2018 Apr 17;4:CD010842.
Henriksen M, Hansen JB, Klokker L, Bliddal H, Christensen R. Comparable effects of exercise and analgesics for pain secondary to knee osteoarthritis: a meta-analysis of trials included in Cochrane systematic reviews. J Comp Eff Res. 2016 Jul;5(4):417–31.
Fransen M, McConnell S, Harmer AR, Van der Esch M, Simic M, Bennell KL. Exercise for osteoarthritis of the knee. Cochrane Musculoskeletal Group, editor. Cochrane Database Syst Rev [Internet]. 2015 Jan 9 [cited 2021 May 14]; Available from: http://doi.wiley.com/10.1002/14651858.CD004376.pub3
Fransen M, McCONNELL S. Land-based Exercise for Osteoarthritis of the Knee: A Metaanalysis of Randomized Controlled Trials. J Rheumatol. 2009 Jun 1;36(6):1109–17.
Bastick AN, Wesseling J, Damen J, Verkleij SP, Emans PJ, Bindels PJ, et al. Defining knee pain trajectories in early symptomatic knee osteoarthritis in primary care: 5-year results from a nationwide prospective cohort study (CHECK). Br J Gen Pract. 2016 Jan;66(642):e32–9.
Croke LM. Treatment of Knee Osteoarthritis: A Clinical Practice Guideline from the AAOS. Am Fam Physician. 2014 Jun 1;89(11):918–20.
American College of Sports Medicine. ACSM Information on HIGH-INTENSITY INTERVAL TRAINING. 2014.
Ahlert M, Matzenbacher F, Albarello J, Halmenschlager G. Comparison of epoc and recovery energy expenditure between hiit and continuous aerobic exercise training. Rev Bras Med Esporte. 2019 Feb 1;25:20–3.
Jung W-S, Hwang H, Kim J, Park H-Y, Lim K. Effect of interval exercise versus continuous exercise on excess post-exercise oxygen consumption during energy-homogenized exercise on a cycle ergometer. J Exerc Nutr Biochem. 2019 Jun 30;23(2):45–50.
Smith-Ryan AE, Melvin MN, Wingfield HL. High-intensity interval training: Modulating interval duration in overweight/obese men. Phys Sportsmed. 2015 Apr 3;43(2):107–13.
High-intensity interval training for health benefits and care of cardiac diseases - The key to an efficient exercise protocol [Internet]. [cited 2021 May 19]. Available from: https://www.ncbi.nlm.nih.gov/pmc/articles/PMC6763680/
Terada S, Tabata I. Effects of acute bouts of running and swimming exercise on PGC-1alpha protein expression in rat epitrochlearis and soleus muscle. Am J Physiol Endocrinol Metab. 2004 Feb;286(2):E208-216.
Milanović Z, Sporiš G, Weston M. Effectiveness of High-Intensity Interval Training (HIT) and Continuous Endurance Training for VO2max Improvements: A Systematic Review and Meta-Analysis of Controlled Trials. Sports Med Auckl NZ. 2015 Oct;45(10):1469–81.
Vollaard NBJ, Metcalfe RS, Williams S. Effect of Number of Sprints in an SIT Session on Change in V˙O2max: A Meta-analysis. Med Sci Sports Exerc. 2017 Jun;49(6):1147–56.
Keogh JWL, Grigg J, Vertullo CJ. Is Home-Based, High-Intensity Interval Training Cycling Feasible and Safe for Patients With Knee Osteoarthritis? Orthop J Sports Med [Internet]. 2017 Mar 13 [cited 2021 May 18];5(3). Available from: https://www.ncbi.nlm.nih.gov/pmc/articles/PMC5400173/
Dupuit M, Rance M, Morel C, Bouillon P, Pereira B, Bonnet A, et al. Moderate-Intensity Continuous Training or High-Intensity Interval Training with or without Resistance Training for Altering Body Composition in Postmenopausal Women. Med Sci Sports Exerc. 2020 Mar;52(3):736–45.
Williams CJ, Gurd BJ, Bonafiglia JT, Voisin S, Li Z, Harvey N, et al. A Multi-Center Comparison of O2peak Trainability Between Interval Training and Moderate Intensity Continuous Training. Front Physiol [Internet]. 2019 [cited 2021 Jun 2];10. Available from: https://www.frontiersin.org/articles/10.3389/fphys.2019.00019/full#B1
McAlindon TE, Bannuru RR, Sullivan MC, Arden NK, Berenbaum F, Bierma-Zeinstra SM, et al. OARSI guidelines for the non-surgical management of knee osteoarthritis. Osteoarthritis Cartilage. 2014 Mar;22(3):363–88.
Smith-Ryan AE, Blue MNM, Anderson KC, Hirsch KR, Allen KD, Huebner JL, et al. Metabolic and physiological effects of high intensity interval training in patients with knee osteoarthritis: A pilot and feasibility study. Osteoarthr Cartil Open. 2020 Dec 1;2(4):100083.
Bressel E, Wing JE, Miller AI, Dolny DG. High-Intensity Interval Training on an Aquatic Treadmill in Adults With Osteoarthritis: Effect on Pain, Balance, Function, and Mobility. J Strength Cond Res. 2014 Aug;28(8):2088–96.
Susko AM, Fitzgerald GK. The pain-relieving qualities of exercise in knee osteoarthritis. Open Access Rheumatol Res Rev. 2013 Oct 15;5:81–91.
Gibala MJ. High-intensity Interval Training: A Time-efficient Strategy for Health Promotion? Curr Sports Med Rep. 2007 Aug;6(4):211–3.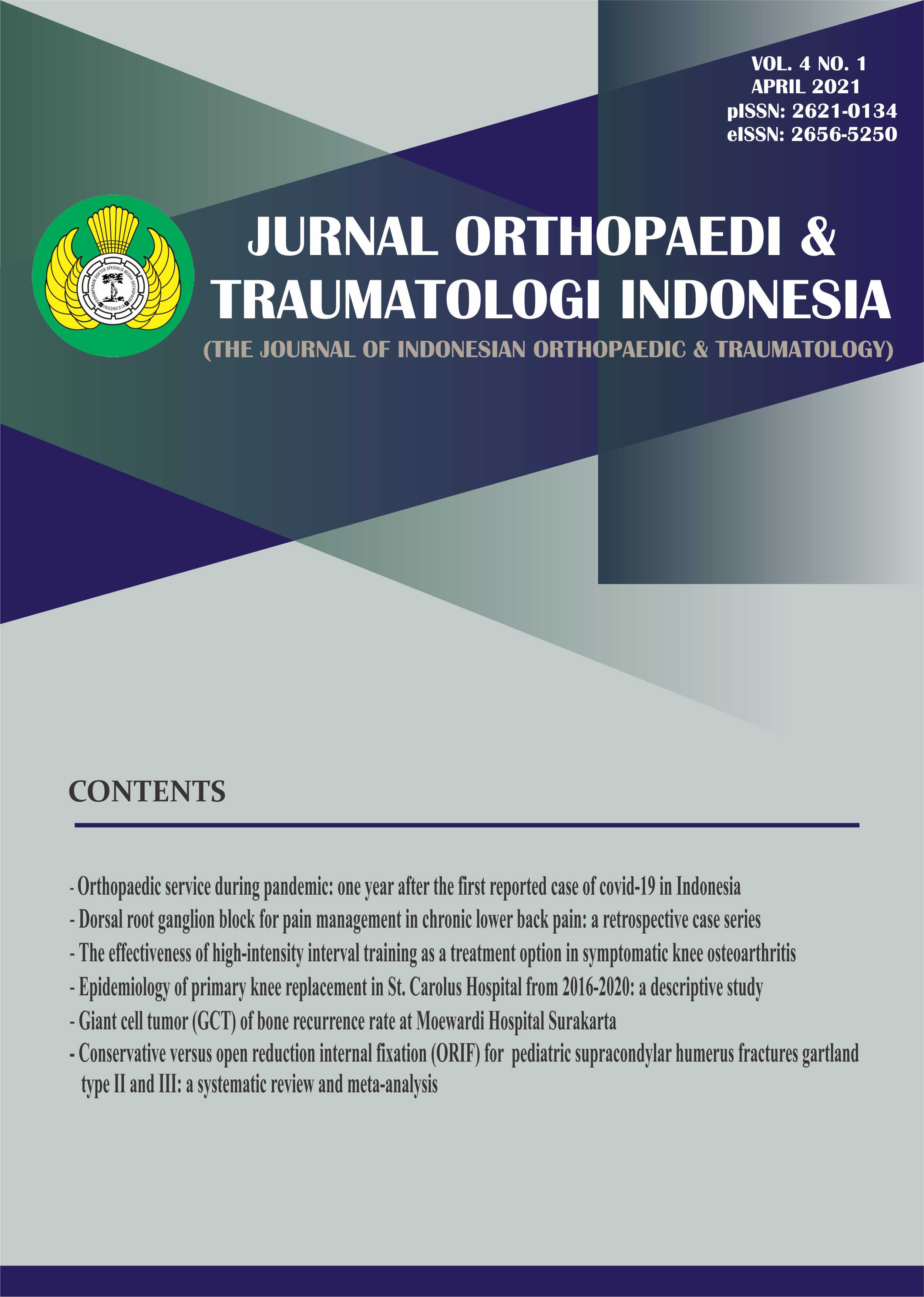 Additional Files
Section
Literature Reviews