Surgical Procedure in Legg-Calvé-Perthes Disease: A Systematic Review
Keywords:
Legg-Calvé-Perthes, Orthopaedic, Pediatric
Abstract
Legg-Calvé-Perthes disease (LCPD) is an adolescent hip disorder characterized by idiopathic osteonecrosis of the
femoral epiphysis and believed to be associated with arterial infarction. This illness typically affects youngsters,
specifically those between the ages of 4 and 8. This research seeks to investigate the impact of surgical
operations on LCPD patients. September 2022 was the month during which we conducted a systematic review
study. Google Scholar, NCBI, and Science Direct were used to search for articles. We included six publications
with 208 patients in total. Our data indicate that this surgical approach can lower pain levels, increase femoral head
coverage, and reduce hip subluxation in LCPD patients.
Downloads
Download data is not yet available.
References
Leroux J, Abu Amara S, Lechevallier J. Legg-Calvé-Perthes disease. Orthop Traumatol Surg Res [Internet]. 2018;104(1):S107–12. Available from: http://dx.doi.org/10.1016/j.otsr.2017.04.012
Karkenny AJ, Tauberg BM, Otsuka NY. Pediatric hip disorders: Slipped capital femoral epiphysis and Legg-Calvé-Perthes disease. Pediatr Rev. 2018;39(9):454–63.
Maleki A, Qoreishy SM, Bahrami MN. Surgical Treatments for Legg-Calvé-Perthes Disease: Comprehensive Review. Interact J Med Res. 2021;10(2):e27075.
Moghadam MH, Moradi A, Omidi-Kashani F. Clinical outcome of femoral osteotomy in patients with Legg-Calvé-perthes disease. Arch Bone Jt Surg. 2013;1(2):90–3.
Perry DC, MacHin DMG, Pope D, Bruce CE, Dangerfield P, Platt MJ, et al. Racial and geographic factors in the incidence of legg-calvé- perthes' disease: A systematic review. Am J Epidemiol. 2012;175(3):159–66.
Hailer YD, Hailer NP. Is Legg-Calvé-Perthes Disease a Local Manifestation of a Systemic Condition? Clin Orthop Relat Res. 2018;476(5):1055–64.
Shore BJ, Novais EN, Millis MB, Kim YJ. Low early failure rates using a surgical dislocation approach in healed Legg-Calvé-Perthes disease pediatrics. Clin Orthop Relat Res. 2012;470(9):2441–9.
Li WC, Xu RJ. Lateral shelf acetabuloplasty for severe Legg-Calv-Perthes disease in patients older than 8 years A mean eleven-year follow-up. Med (United States). 2016;95(45).
Bhuyan BK. Early outcomes of one-stage combined osteotomy in Legg-Calvé-Perthes disease. Indian J Orthop. 2016;50(2):183–94.
Albers CE, Steppacher SD, Ganz R, Siebenrock KA, Tannast M. Joint-preserving surgery improves pain, range of motion, and abductor strength after Legg-Calvé-Perthes disease hip. Clin Orthop Relat Res. 2012;470(9):2450–61.
Elzohairy MM. Short follow-up evaluation of proximal femoral varus osteotomy for treatment of Legg–Calvé–Perthes disease. J Orthop Traumatol. 2016;17(4):345–51.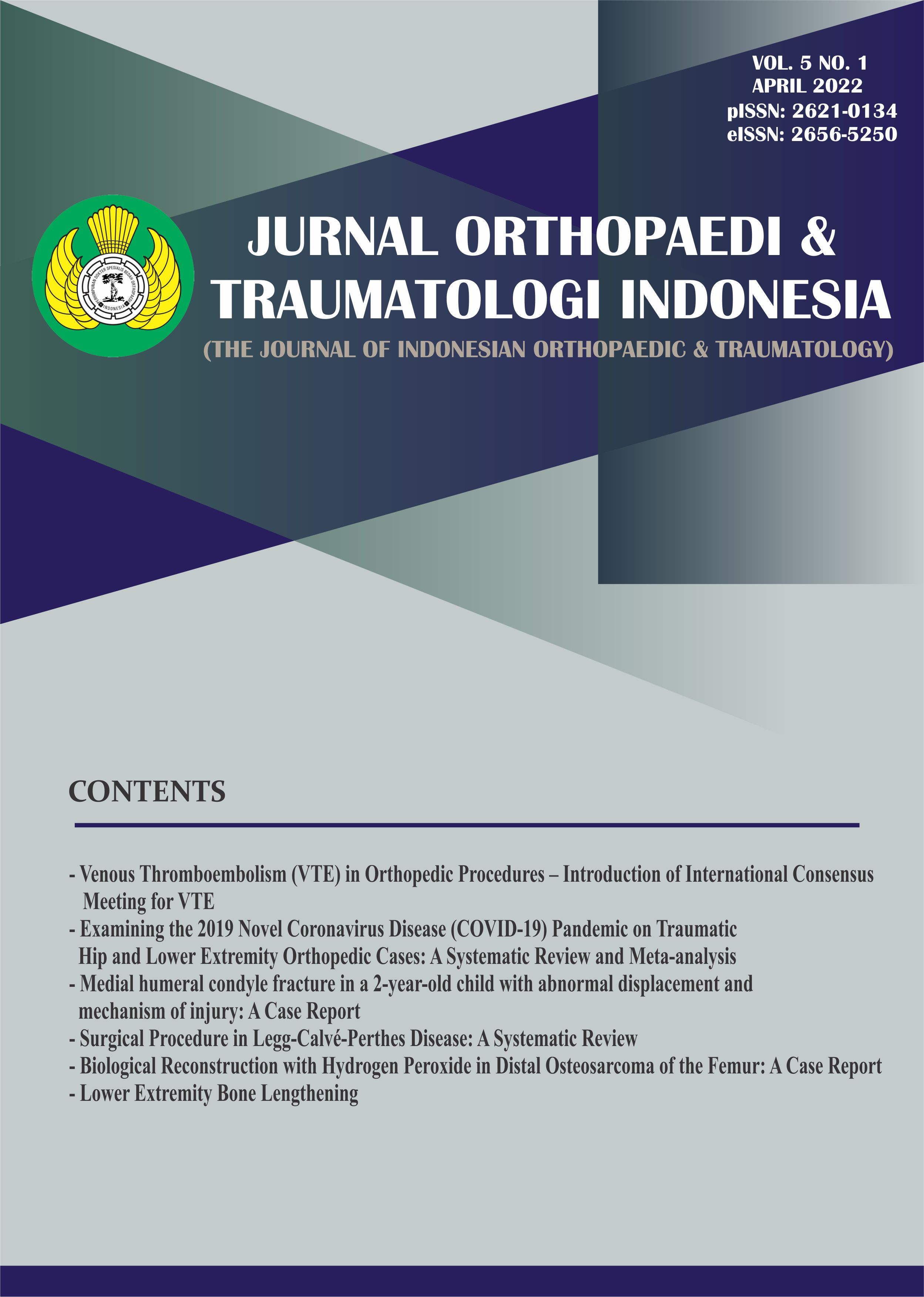 Additional Files
Section
Original Research Article