Dislocation following total hip arthroplasty: A series of 6 cases and literature review
Keywords:
dislocation, total hip, risk factor
Abstract
Introduction:
Despite being one of the most successful operative procedures in the field of orthopaedic, total hip arthroplasty (THA) could lead to devastating complications, one of which is dislocation. Such condition is one of the most common causes of both patient and surgeon dissatisfaction, and impairs the quality of life. To our knowledge, there are no studies regarding factors associated with dislocation following THA in our country.

Methods:
We conducted a cross-sectional study by reviewing medical records of patients who underwent primary and revision THA at Cipto Mangunkusumo Hospital, Jakarta, Indonesia, during the period between January 2017 and December 2018. Those who were diagnosed with dislocation following the surgery were included. Individuals who had previous THA in other hospitals, and those who had neoplasms, were excluded. We recorded the underlying disease, THA approach, implants used, component placements, type of dislocation, reduction performed, the interval between the procedure and dislocation, adherence to hip precaution and whether revision was needed.

Results:
A total of 68 patients (73 hips) had undergone THA in our center. Five hips were excluded, as four of them had undergone THA in other centers, and one had history of malignancy. Thus, the final hips reviewed in this study were 68 (42, 13, and 13 had primary, primary difficult, and revision THA, respectively). None of those who had undergone primary THA developed dislocation; whereas, four (30.7%) and two (15.4%) subjects who had undergone primary difficult and revision THA, respectively, had dislocation.

Conclusion:
We observed higher rates of dislocation compared to previous findings, which probably occurred because our center was a national referral hospital, which treated more complex cases. We found two patients who did not adhere to hip precaution, two patients with septic loosening and multiple prior surgeries. We recommended the use of hip precaution, particularly in patients who underwent primary difficult THA. This study confirms findings from previous reports, which states that two-stage revisions for infection and history of previous surgery predisposes to dislocation. We found that non-compliance to hip precaution also contributes to dislocation.
Downloads
Download data is not yet available.
References
Knight SR, Aujla R, Biswas SP. Total Hip Arthroplasty - over 100 years of operative history. Orthop Rev (Pavia). 2011;3(16):2–4.
Bozic BKJ, Kurtz SM, Lau E, Ong K, Vail TP, Berry DJ. The Epidemiology of Revision Total Hip Arthroplasty in the United States. J Bone Jt Surg Am. 2009;128–33.
Soong M, Rubash HE, Macaulay W. Dislocation After Total Hip Arthroplasty. J Am Acad Orthop Surg. 2004;12:314–21.
Kraay M, Bigach S. The neuromuscularly challenged patient: total hip replacement is now an option. Bone Jt J. 2014;96(11):27–31.
Brooks PJ. Dislocation following total hip replacement causes and cures. J Bone Jt Surg Br. 2013;95(11):67–9.
Alberton GM, High WA, Morrey BF. Dislocation After Revision Total Hip Arthroplasty: An Analysis of Risk Factors and Treatment Options. J Bone Jt Surg Am. 2002;84(10).
Blom AW, Rogers M, Taylor AH, Pattison G, Whitehouse S. Dislocation following total hip replacement : the Avon Orthopaedic Centre experience. Ann R Coll Surg Engl. 2008;90:658–62.
Parvizi J, Picinic E, Sharkey PF. Revision total hip arthroplasty for instability: Surgical techniques and principles. J Bone Jt Surg Am. 2008;90(5):1134–41.
McAlister IP, Perry KI, Mara KC, Hanssen AD, Berry DJ, Abdel MP. Two-Stage Revision of Total Hip Arthroplasty for Infection Is Associated with a High Rate of Dislocation. J Bone Jt Surg Am. 2019;101(4).
Barnsley L, Occupational B, Hons T, Barnsley L, Epi GC, Racp F, et al. Are Hip Precautions Necessary Post Total Hip Arthroplasty ? A Systematic Review. Geriatr Orthop Surg Rehabil. 2015;6(3):230–5.
Clohisy JC, Carli A V, Beaul PE. Variation in Use of Postoperative Precautions and Equipment Following Total Hip Arthroplasty : A Survey of the AAHKS and CAS Membership. J Arthro. 2018;33:3201–5.
Wera GD, Ting NT, Moric M, Paprosky WG, Sporer SM, Valle CJ Della. Classification and Management of the Unstable Total Hip Arthroplasty. J Arthroplasty. 2012;27(5):710–5.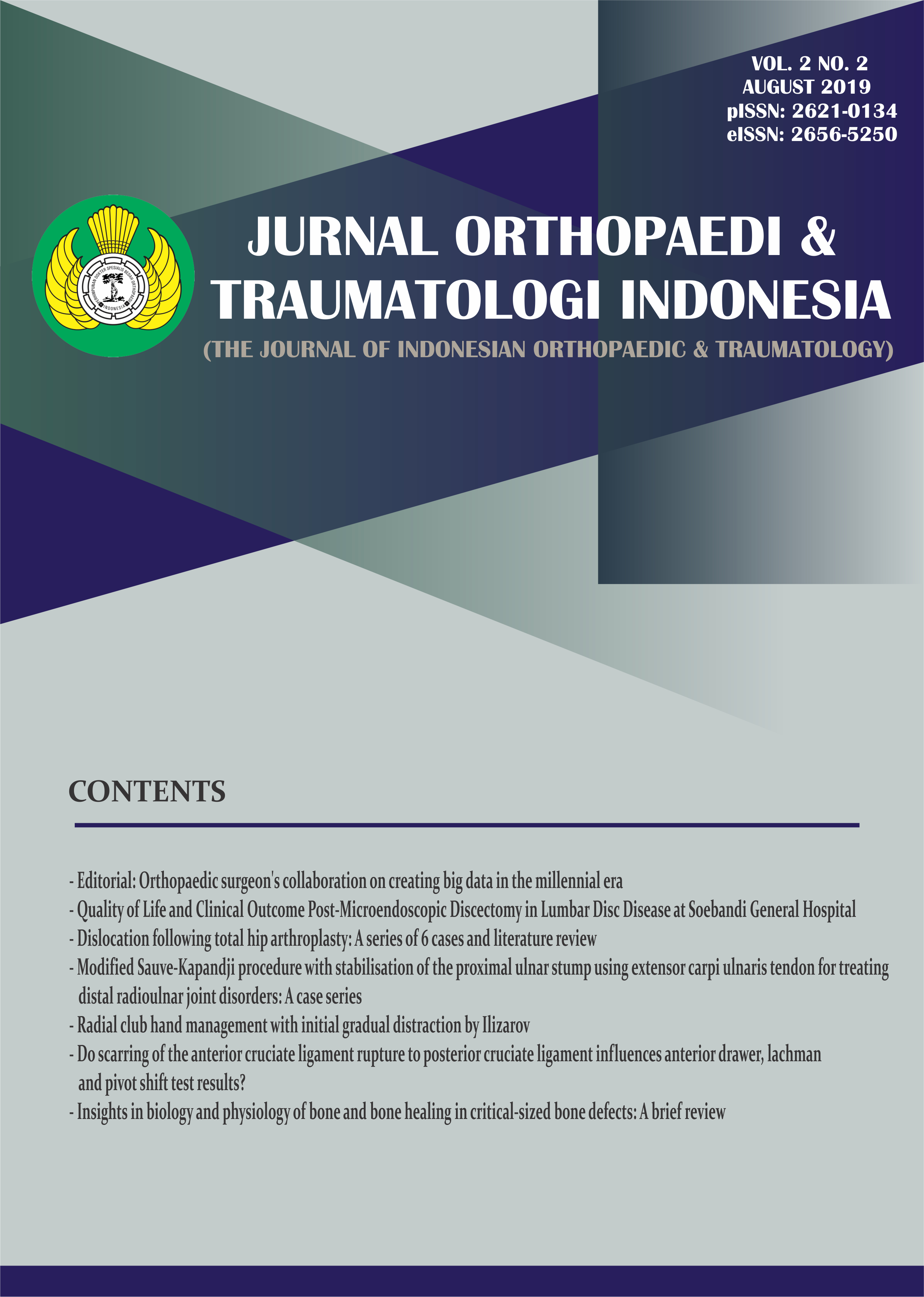 Additional Files
Section
Clinical Research