Radial club hand management with initial gradual distraction by Ilizarov
Keywords:
Radial club hand, severe stiffness, wrist radial deviation, gradual distraction, Ilizarov, external fixation
Abstract
Introduction:
Radial club hand is a radial longitudinal deficiency, clinically characterized by shortening and bowing of the forearm and radial deviation of the wrist. Acute correction of the wrist during centralization became very difficult in severe cases. Ilizarov external fixator offers a solution through gradual distraction for safe and effective correction of severely stiff wrist radial deviation initial to ulnar centralization. We present a case of successful correction of unilateral radial club hand in one-year period of treatment.
Methods: We report a 5-year-old boy with unilateral radial club hand. He had shortened and bowed ulna, severe stiffness of wrist radial deviation which failed to be stretched with serial casting, and lack of hand function. Ilizarov external fixation was used for gradual distraction at 1-2 mm per day until the wrist looked straight. The procedure was followed by centralization as well as ulnar osteotomy for correcting ulnar bowed and fixed with K-Wire through carpus and second metacarpal for three months.

Results:
In the one year follow up, the ulnar was still centralized with no neurovascular impairment and there was improved hand function. The original technique for severe shortening of the concavity structures requires extensive soft-tissue release during the centralization procedure. It is associated with carpal resection, leading to further shortening of an already short forearm. Ilizarov external fixation is used to make the stretching process by gradual distraction of radial aspect safer and more effective before ulnar centralization.

Conclusion:
Gradual distraction by Ilizarov external fixator is a good option for safe and effective stretching of severe stiffness of wrist radial deviation prior to ulnar centralization.
Downloads
Download data is not yet available.
References
Maschke SD, Seitz W, Lawton J. Radial longitudinal deficiency. J Am Acad Orthop Surg. 2007. doi:10.5435/00124635-200701000-00005
James MA, Green HD, McCarroll HR, Manske PR. The association of radial deficiency with thumb hypoplasia. J Bone Jt Surg - Ser A. 2004. doi:10.2106/00004623-200410000-00010
Ekblom AG, Laurell T, Arner M. Epidemiology of congenital upper limb anomalies in 562 children born in 1997 to 2007: A total population study from Stockholm, Sweden. J Hand Surg Am. 2010. doi:10.1016/j.jhsa.2010.07.007
de Jong JP, Moran SL, Vilkki SK. Changing paradigms in the treatment of radial club hand: Microvascular joint transfer for correction of radial deviation and preservation of long-term growth. Clin Orthop Surg. 2012;4(1):36-44. doi:10.4055/cios.2012.4.1.36
Hosny GA, Ahmed A-SA. Management of congenital radial club hand by gradual correction. Genij Ortop. 2016;(4):17-21. doi:10.18019/1028-4427-2016-4-17-21
Romana C, Ciais G, Fitoussi F. Treatment of severe radial club hand by distraction using an articulated mini-rail fixator and transfixing pins. Orthop Traumatol Surg Res. 2015;101(4):495-500. doi:10.1016/j.otsr.2015.02.009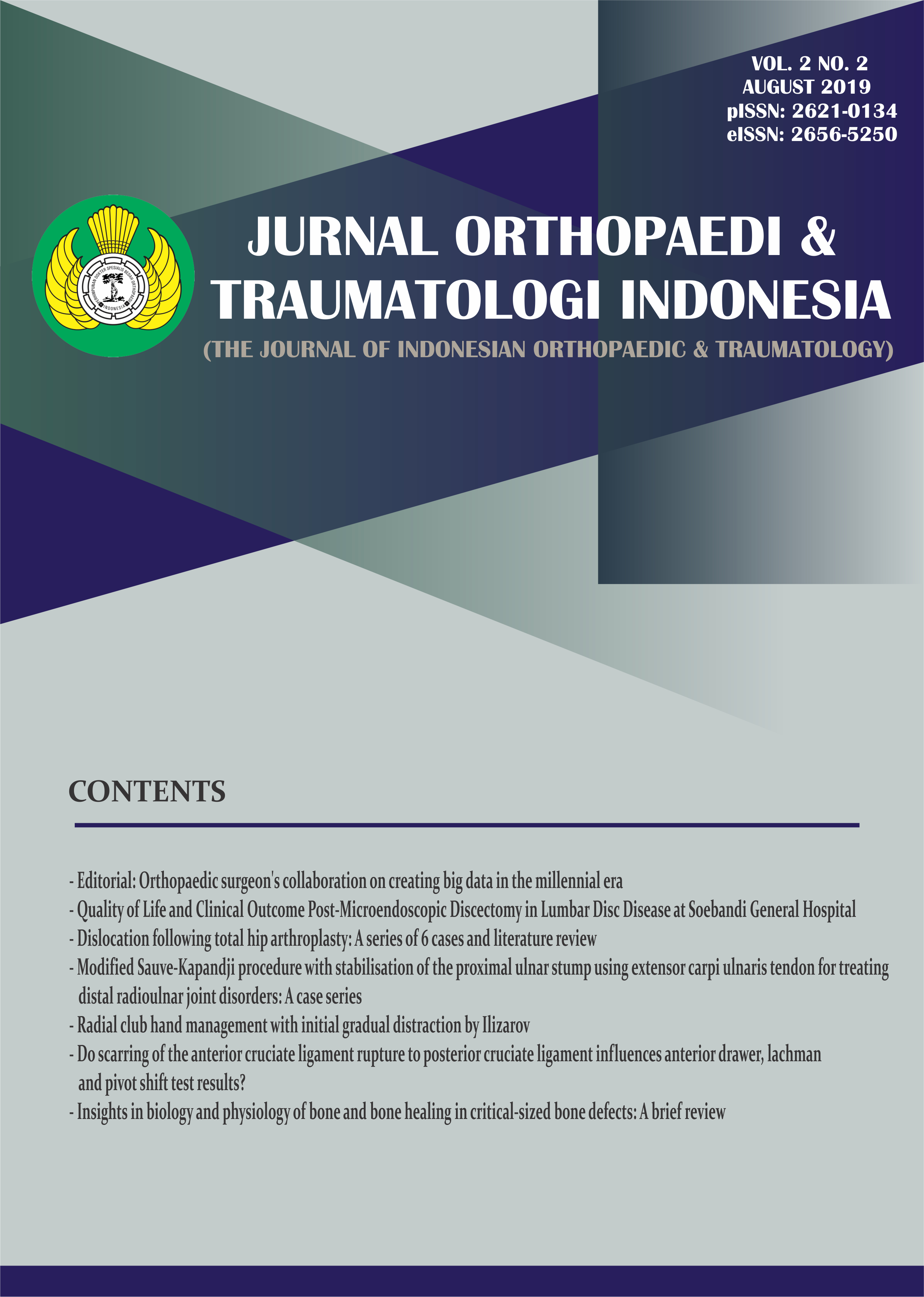 Additional Files