Translation, adaptation, and validation of western ontario and mcmaster universities osteoarthritis index (WOMAC) for indonesian
Keywords:
knee osteoarthritis, WOMAC, functional scoring system, Indonesian
Abstract
Introduction:
Osteoarthritis (OA) of the knee remains a major health problem in Indonesia. WOMAC is a disease specific questionnaire for knee and hip osteoarthritis patients. It consists of 3 subscales, which are pain, stiffness and physical function. It is one of the commonly used functional score for research or medical evaluation. Even though functional score should be accepted internationally, translation to native language and local custom is needed. WOMAC has been translated into 72 languages. In South East Asia, validated languages for WOMAC are Thailand, Cantonese (Malaysia), English (Malaysia, Singapore), Malay (Malaysia, Singapore), Tamil (Malaysia) and Mandarin (Singapura). Indonesia has no functional score for OA that has already validated into Indonesian. The aim of this study is to translate and validate the WOMAC into Indonesian.
Methods:
A cross-sectional study was conducted at Siloam General Hospital, Lippo Village, with one hundred samples. All data were obtained by interview and questionnaire, then analyzed using Crohnbach's Alpha coefficient for reliability test dan face validity for validity test.
Results:
There were 12 males and 88 females with a mean age of 63.67+9.223 years, who 36% of the patients had Kellgren-Lawrence grade III. Crohnbach's alpha coefficient was 0.966, suggesting that the items had relatively high internal consistency and highly correlated.
Conclusion:
Based on this study, the Indonesian WOMAC questionnaire is validated dan reliable to be used among Indonesian population.
Downloads
Download data is not yet available.
References
Soeroso J, Isbagia H, Kalim H, Broto R, Pramudiyo R. Osteoartritis. In Setiadi S, Alwi I, Sudoyo AW, Setiyohadi B, Syam FA, Simadibrata KM, editors. Buku Ajar Ilmu Penyakit Dalam. 6th ed. Jakarta: Interna Publishing; 2014.
Collins NJ, Misra D, Felson DT, Crossley KM, Roos EM. Measures of Knee Function. Arthritis Care Res. 2011 November; 63.
Guermazi M, Poiraudeau S, Yahia M, Mezganni M, Fermanian J, Ellleuch MH, et al. Translation, adaptation and validation of the Western Ontario and McMaster Universities osteoarthritis index (WOMAC) for an Arab population: the Sfax modified WOMAC. OsteoArthritis and Cartilage. 2004; 12: p. 459-68.
Escobar A, Quintana JM, Bilbao A, Azkarate J, Guenaga JI. Validation of the Spanish Version of the WOMAC Questionnaire for Patients with Hip or Knee Osteoarthritis. Clin Rheumatol. 2002; 21: p. 466-71.
Salter RB. Textbook of Disorders and Injuries of the Musculoskeletal System. 3rd ed. Philadelphia: Williams & Wilkins; 2008.
Zhang Y, Jordan JM. Epidemiology of Osteoarthritis. Clin Geriatr Med. 2010 August;: p. 355-69.
McCance KL, Huether SE. Pathophysiology: The Biologic Basis for Disease in Adults and Children. 7th ed. Philadelphia: Mosby Elsevier; 2014.
World Health Organization. Chronic rheumatic conditions. [Online]. [cited 2018 July 7. Available from: http://www.who.int/chp/topics/rheumatic/en/.
Tsang S, Royse CF, Terkawi AS. Guidelines for developing, translating, and validating a questionnaire in perioperative and pain medicine. Saudi J Anaesth. 2017 May;: p. 80-9.
Jacobs CA, Christensen CP. Correlations between Knee Society Function Scores and Functional Force Measures. Clin Orthop Relat Res. 2009 September;:p. 2414-9.
Giesinger JM, Hamilton DF, Jost B, Behrend H, Giesinger K. WOMAC, EQ-5D and Knee Society Score Thresholds for Treatment Success After Total Knee Arthroplasty. The Journal of Arthroplasty. 2015 December; 30(12): p. 2154-8.
Kadir AA, Arif MFM, Ishak A, Hassan II, Noor NM. Adaptation and Validation of the Malay version of the Osteoarthritis Knee and Hip Quality of Life (OAKHQOL) questionnaire among Knee Osteoarthritis Patients. Clinical Rheumatology. 2011 December; 30(12): p. 1563-75.
Western Ontario and McMaster Universities. WOMAC® 3.1 Index. [Online].; 2016 [cited 2018 July 9. Available from: http://womac.org/womac/index.htm.
Faschingbauer M, Kasparek M, Schadler P, Trubrich A, Urlaub S, Boettner F. Predictive values of WOMAC, KOOS, and SF-12 score for knee arthroplasty: data from the OAI. Knee Surgery, Sports Traumatology, Arthroscopy. 2017 November; 25(11): p. 3333-9.
Translation, adaptation, and validation of western ontario and mcmaster universities osteoarthritis index (WOMAC) for indonesian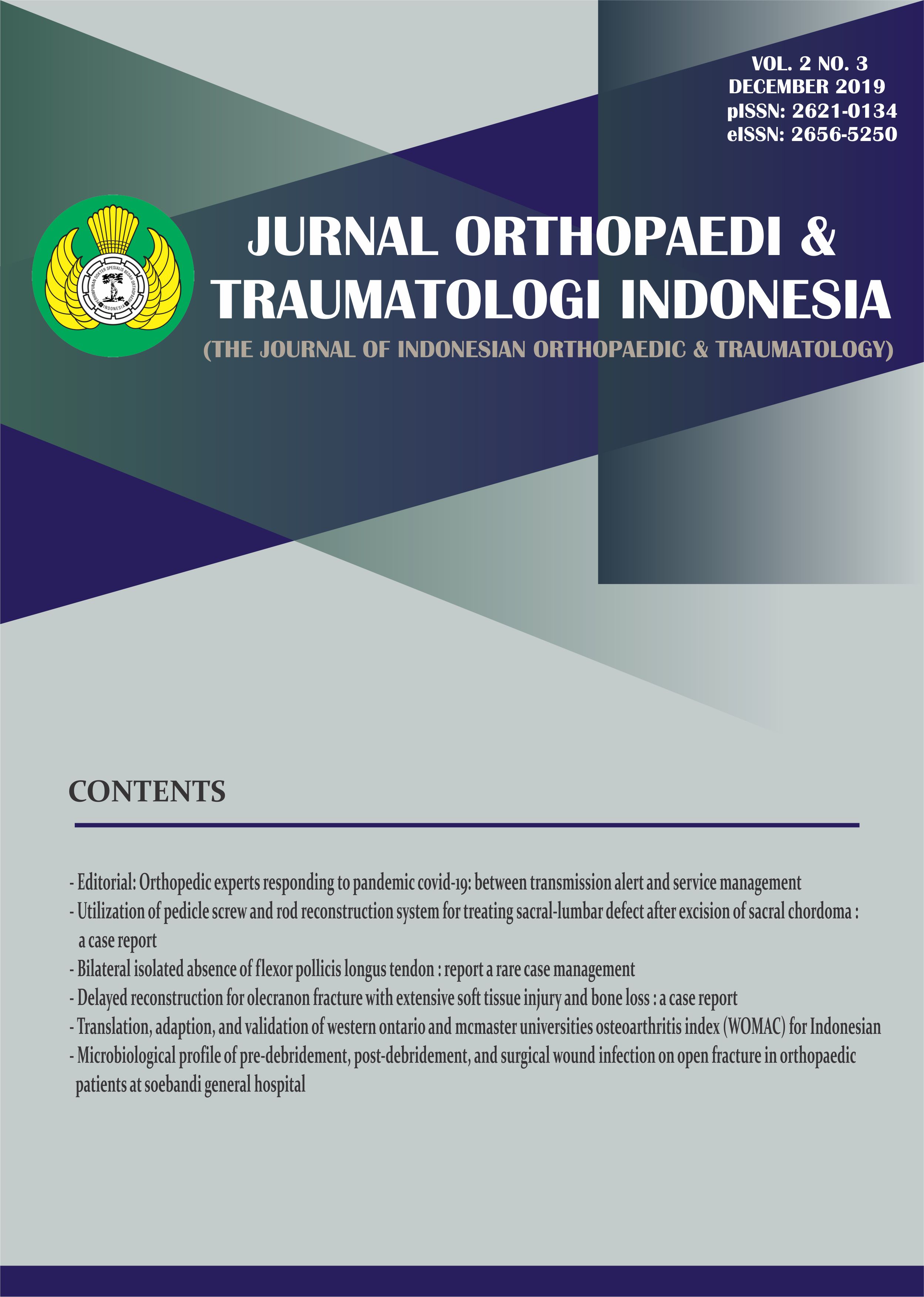 Additional Files
Section
Clinical Research