Giant cell tumor (GCT) of bone recurrence rate at Moewardi Hospital Surakarta
Keywords:
bone tumor, Giant Cell Tumor, Recurrence Rate
Abstract
Introduction: GCT of bone comprises almost 20% of primary bone tumors in Asia, and has a high incidence of recurrence (20-60%) although complete surgical treatment had already been performed. Many strategies has been promoted to reduce the recurrence rate, but due to tumor characteristics, recurrence is yet to be a common issue. Since there is limited reference about recurrence rate of GCT in Indonesia, this study aims to discover the recurrence rate of GCT of bone in our department of orthopaedic and traumatology.
Methods: Retrospectively, we observed inward patients diagnosed with GCT and underwent surgical treatment at the department of orthopaedic of Moewardi Hospital, Surakarta, from January 2016 to February 2020 and evaluated the incidence of recurrence.
Results: Prevalence of GCT of bone is equal between male and female. There were 75% of patients aged 30-40 years. Recurrence after operation occurred in 6.25% of patients.
Conclusion: GCT of bone is one of the most frequent bone tumors, and has high incidence of recurrence. However, the incidence of recurrence in our study is quite low. Surgical treatment option in our study resulted in lower recurrence rate compared to other studies.
Downloads
Download data is not yet available.
References
REFERENCES
Sobti A, Agrawal P, Agarwala S, Agarwal M. Giant Cell Tumor of Bone - An Overview. Arch Bone Jt Surg. 2016;4(1):2‐9.
Lin F, Hu Y, Zhao L, et al. The epidemiological and clinical features of primary giant cell tumor around the knee: A report from the multicenter retrospective study in china. J Bone Oncol. 2016;5(1):38‐42. Published 2016 Feb 11. doi:10.1016/j.jbo.2016.02.001
Wang H, Wan N, Hu Y. Giant cell tumour of bone: a new evaluating system is necessary. Int Orthop. 2012;36(12):2521‐2527. doi:10.1007/s00264-012-1664-9
Mavrogenis, Andraeas., et all. Giant Cell Tumor of Bone Revisited. SICOT J2017, 3, 54.
Errani C., Ruggieri P., Asenzio M.A., Toscano A., Colangeli S., Rimondi E. Giant cell tumor of the extremity: a review of 349 cases from a single institution. Cancer Treat. Rev. 2010;36:1–7.
Bridge JA, Neff JR, Mouron BJ. Giant cell tumor of bone. Chromosomal analysis of 48 specimens and review of the literature. Cancer Genet Cytogenet. 1992 Jan; 58(1):2-13.
Yu XC, Xu M, Song RX, Fu ZH, Liu XP. Long-term outcome of giant cell tumors of bone around the knee treated by en bloc resection of tumor and reconstruction with prosthesis.. Orthop Surg. 2010 Aug; 2(3):211-7.
Saikia KC, Bhattacharyya TD, Bhuyan SK, Bordoloi B, Durgia B, Ahmed F. Local recurrences after curettage and cementing in long bone giant cell tumor. Indian J Orthop. 2011;45(2):168‐173. doi:10.4103/0019-5413.77138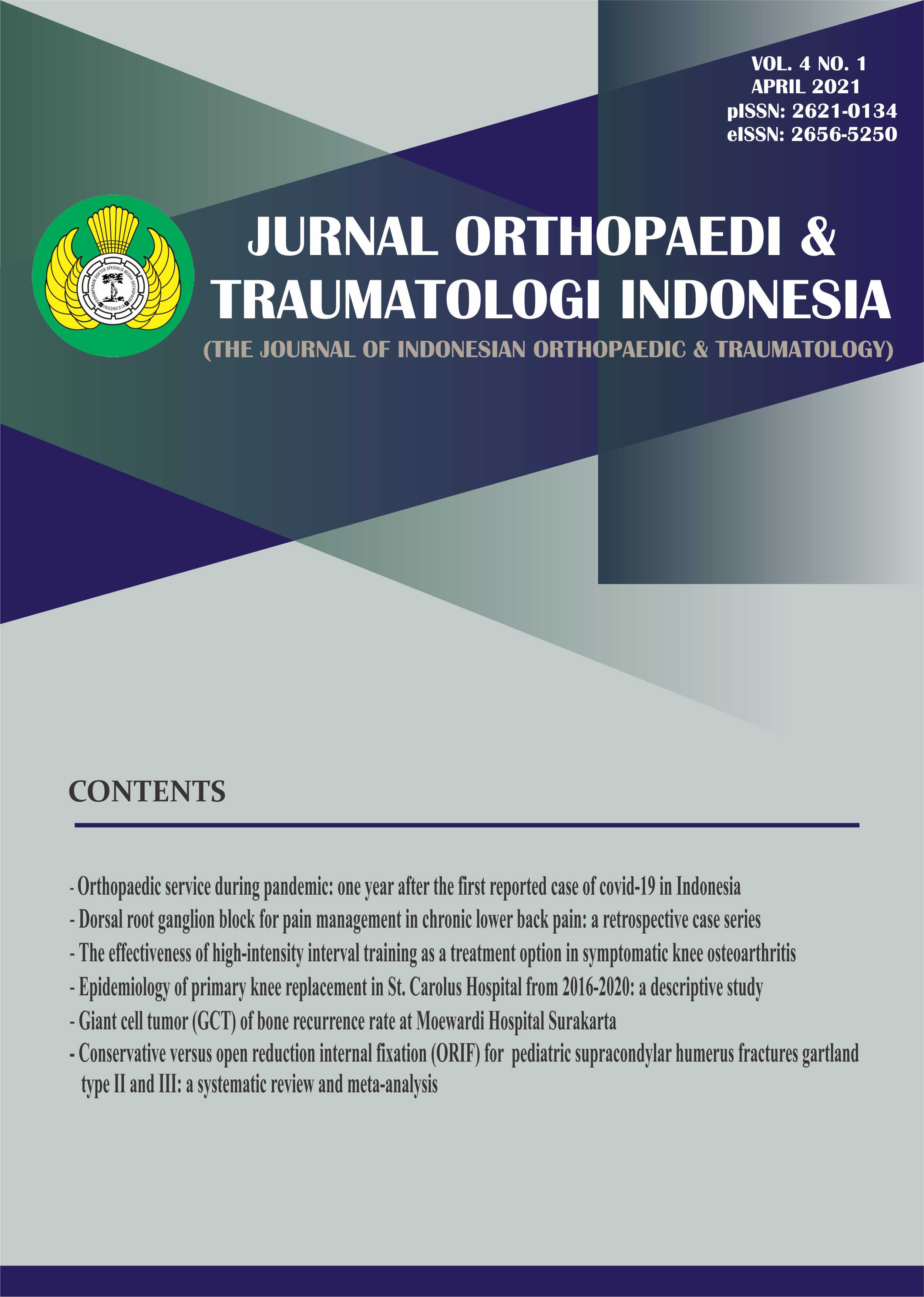 Additional Files
Section
Original Research Article