Profile of neglected supracondylar humeral fractures in prof. dr. soeharso orthopaedic hospital surakarta, indonesia (january 2018 - december 2018)
Keywords:
Supracondylar humeral fractures, neglected fractures, elbow
Abstract
Introduction: The supracondylar humeral (SCH) fracture is a fracture that occurs in the distal part of the humeral bone at the level of the condyle, which passes through the olecranon fossa. SCH fracture is the most common fracture in the elbow of children and is usually treated in an emergency setting, whether using close reduction or open reduction, and percutaneous pining. However, the treatment often delayed for various reasons.
Object: This study was to analyze the profile of patients with neglected SCH fractures in Prof. Dr. R Soeharso Orthopaedic Hospital, Surakarta, Indonesia in 2018.

Materials and Method: We retrospectively reviewed the hospital medical records of all admitted patients with neglected SCH fractures from January 2018 to December 2018 in Prof. Dr. Soeharso Orthopaedic Hospital Surakarta.

Results: Eight patients with neglected SCH fractures, 7 males (87%) and 1 female (13%). Seven patients were children and one patient was a young adult. Four cases were extension type and 4 cases were flexion type. In cases of deformities: 5 cases (62%) were varus deformity, 2 cases (25%) were valgus, and 1 case (13%) was s-shape deformity. We did open reduction and inserted k-wires in all patients, 62% (n=5) was lateral approach, 25% (n=2) was posterior approach, and 13% (n=1) was medial approach. The average time the patients seek the treatment was 3.875 weeks, varies starting from 2 weeks - 7 weeks. We compared ROM of the elbow before and after surgery, and found that surgery was able to improve ROM in patients with neglected SCH fractures. However, in some patients, the post-operative ROM cannot be optimal.
Downloads
Download data is not yet available.
References
Yaokreh JB, Odehouri-Koudou TH, Tembely S, et al. Delayed treatment of supracondylar elbow fractures in children. Orthopaedics and Traumatology: Surgery and Research. 2012;98(7):808-812. doi:10.1016/j.otsr.2012.07.005
Khan J, Ahmed R, Akhtar RR, Batool K, Riaz H. Effect of Delay in Operative Treatment on the Range of Motion in Supracondylar Humerus Fracture. Journal of Rawalpindi Medical College (JRMC). 2017;21(1):51-56.
Shah RK, Rijal R, Kalawar RPS, Shrestha SR, Shah NK. Open Reduction and Internal Fixation of Displaced Supracondylar Fracture of Late Presentation in Children: A Preliminary Report. Advances in Orthopedic Surgery. 2016;2016(i):1-6. doi:10.1155/2016/9256540
Ali N, Bhat A, Bangroo FA, et al. Epidemiological Study of Paediatric Supracondylar Humeral Fracture : Experience at a Tertiary Care Centre of North India. International Journal of Biomedical and Advance Research IJBAR. 2014;05(09):425-428. doi:10.7439/ijbar
Kharat AA, Biraris SR, Dhaniwala NS, Shinde GJ, Bhoj P. A Comparative study of management of displaced Gartland III supracondylar fracture humerus in children. Journal of Medical Thesis. 2017;5(1):12-17. doi:10.13107/jmt.2347-5595/0154
Sumarwoto T, Hadinoto SA, Pranandaru H, Andhika H, Rhatomy S, Utomo P. Short-term Follow-up of Early Reconstructive Surgery Management in Neglected Supracondylar Humeral Fractures. Open Access Macedonian Journal of Medical Sciences. 2021;9(Jan 21):24-28. doi:http://doi.org/10.3889/oamjms.2021.5577
Anjum R, Sharma V, Jindal R, Singh TP, Rathee N. Epidemiologic pattern of paediatric supracondylar fractures of humerus in a teaching hospital of rural India: A prospective study of 263 cases. Chinese Journal of Traumatology - English Edition. 2017;20(3):158-160. doi:10.1016/j.cjtee.2016.10.007
Omid R, Choi PD, Skaggs DL. Supracondylar humeral fractures in children. Journal of Bone and Joint Surgery - Series A. 2008;90(5):1121-1132. doi:10.2106/JBJS.G.01354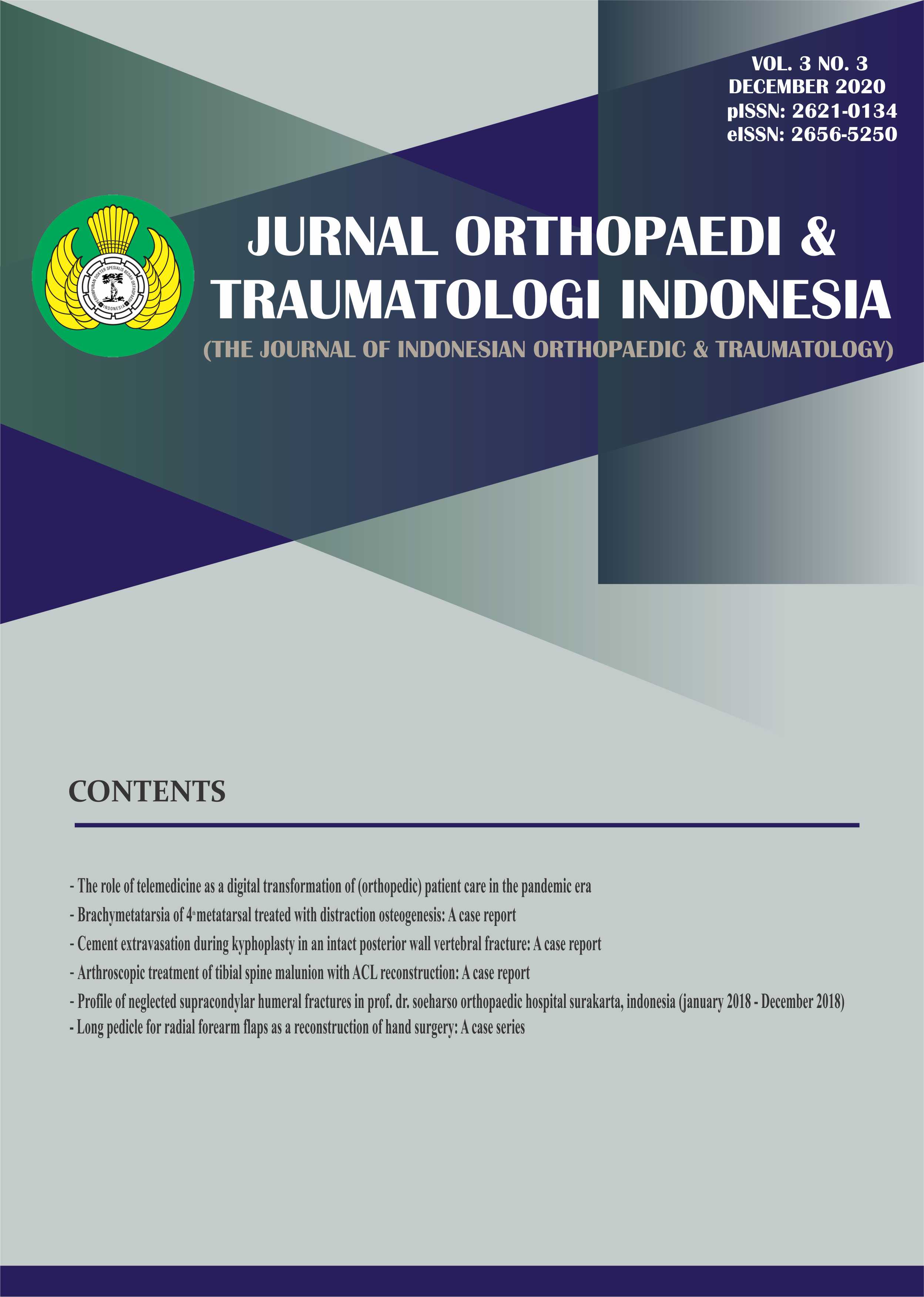 Additional Files