Acute limb Ischemia Rutherford Classification III and COVID-19: A case report
Keywords:
Acute Limb Ischaemic, amputation, Covid
Abstract
COVID-19 is caused by SARS-CoV-2 infections, which are responsible for the recent pandemic. COVID-19 infection is associated with an increased incidence of thromboembolic events, including acute limb ischemia (ALI).  COVID-19 causes elevated cytokine levels, systemic inflammation, hypercoagulation state, and hyperinflammation responses are responsible for arterial system damages, causing endothelial dysfunction. Without any treatment, ALI might cause loss of the limbs. Amputation procedure is the treatment option for managing ALI patients. We reported a case of 61 years old male with ALI and COVID-19 infection with main complaints of pain in his left leg accompanied by tingles and bluish in his left leg. The patient had been admitted due to COVID-19 before. Debridement and left limb amputation was done.
Downloads
Download data is not yet available.
References
Sanchez JB, Alcalde JDC, Isdiro RR, et al. Acute Limb Ischemia in a Peruvian Cohort Infected by COVID-19. Annals of Vascular Surgery. 2021; 72: 196–204. DOI: 10.1016/j.avsg.2020.12.005
Vania, A., Yuliani, D., & Sumada, I.K. (2020). Manifestasi klinis neurologis pada COVID-19. Callosum Neurology Journal, 3:88-95. https://doi.org/10.29342/cnj.v3i3.118
World Health Organization. (2021a). Update on coronavirus disease in Indonesia. WHO. https://www.who.int/indonesia/news/novel-coronavirus
Gugus Tugas Percepatan Penanganan Covid-19. Pedoman Penanganan Cepat Medis dan Kesehatan Masyarakat Covid-19 di Indonesia. 2020;1–38.
Guan WJ, Ni ZY, Hu Y, et al. Clinical Characteristics of Coronavirus Disease 2019 in China. New Engl J Med. 2020. DOI: 10.1056/NEJMoa2002032
PDPI. Pnemonia Covid-19. Diagnosis & Penatalaksanaan di Indonesia. 2020.
Bellosta R, Luzzani L, Natalini G, et al. Acute limb ischemia in patients with COVID-19 pneumonia. Journal of Vascular Surgery. 2020;72(6). DOI: 10.1016/j.jvs.2020.04.483
Topcu AC, Ariturk C, Yilmaz E. Acute limb ischemia in a COVID-19 patient. Thrombosis Update 2. 2021:100031 doi: 10.1016/j.tru.2020.100031
Natarajan B, Patel P, Mukherjee A. Acute Lower Limb Ischemia—Etiology, Pathology, and Management. Int J Angiol. 2020;29:168–174. DOI: 10.1055/s-0040-1713769
Galyfos G, Sianou A, Frountzas M, et al. Acute limb ischemia among patients with COVID-19 infection. Journal of Vascular Surgery. 2022;75(1):326-342 DOI: 10.1016/j.jvs.2021.07.222
Kinlay S. Management of critical limb ischemia. Circ Cardiovasc Interv. 2016; 9(2): e001946. DOI: 10.1161/CIRCINTERVENTIONS.115.001946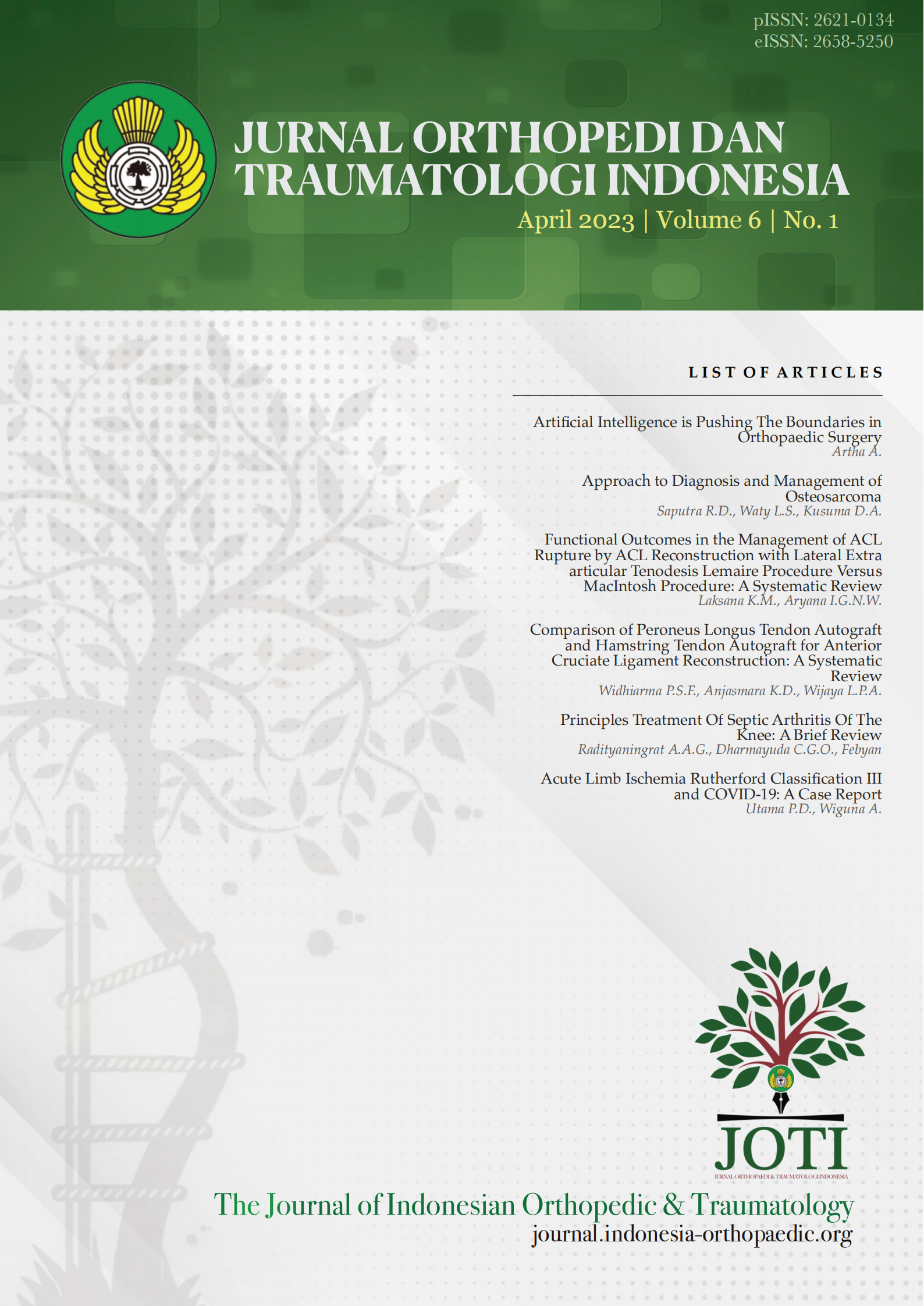 Additional Files