A Comparison of Peroneus Longus Tendon Autograft and Hamstring Tendon Autograft for Anterior Cruciate Ligament Reconstruction: A Systematic Review
Abstract, Introduction, Methods, Result, Discussion, Conclusion
Keywords:
Peroneus longus tendon, Hamstring Tendon, Anterior cruciate ligament, Reconstruction, ACL
Abstract
Purpose: The aim of this study to compare the outcomes between peroneus longus tendon autograft versus hamstring tendon autograft for anterior cruciate ligament reconstruction such as International Knee Decumentation Committee (IKDC), Lysholm score, Modofied cincinnati score, Tegner activity scale and donor site morbidity.
Methods: This systematic review using Preferred Reporting Items for Systematic Reviews and Meta-Analyses (PRISMA) guidelines. Multiple databases were searched for studies that compared functional outcomes of ACL reconstruction with peroneus longus tendon autograft versus hamstring tendon autografts with minimum 1 year follow-up.
Result: We analyzed 5 studies included direct comparison of peroneus longus tendon (106 patients) versus hamstring tendon (137 patients). There was no significant diferrence comparison of the outcome such as Modified cincinnati, Tegner scale activity and  Lysholm score. On IKDC score, 1 studies reported there was a significant difference between peroneus longus tendon autograft 87.4 (67.8-100) versus hamstring tendon autograft 78.2 (35.6-95.6) with p=0. Two studies reported donor site morbidity mostly occured in hamstring tendon autograft (11.4 ± 3.6) were higher than peroneus longus tendon (2.5 ± 0.5) (P=0.002). The knee flexion of donor site morbidity in peroneus longus tendon group (41.97 ± 1.98) higher than hamstring tendon group (40.65 ± 1.74) (P=0.02).
Conclusion: This study was concluded there was no significant differrence of comparison between peroneus longus group and hamstring group after ACL reconstruction but IKDC score after reconstruction could be affected by gender and graft size. Donor site morbidity most occured in hamstring group than peroneus longus group after ACL reonstruction.
Downloads
Download data is not yet available.
References
Raines BT, Naclerio E, Sherman SL. Management of Anterior Cruciate Ligament Injury. Indian Journal of Orthopaedics 2017(51):563-575
Jarvela T, Suomalainen P. ACL Reconstruction with Double –Bundle Technique: A Review of Clinical Results. The Physician and Sports Medicine 2011;1(39):85-92
Thomson JC. Netter's Concise Orthopaedic Anatomy.Philadelphia.2010:297-336
Salter RB. Textbook of Disorder And Injuries of The Musculoskeletal System.3rd ed. Johnson EP,editor.Philadelphia:Lippincott;2008:66-627
Apley GA, Solomon L. System Of Orthopaedics and Trauma. 9th ed. Taylor and Francis Group.Florida.2018:916-917
Rudy, Mustamsir E, Phatama KY. Tensile strength comparison between peroneus longus and hamstring tendons:A biomechanical study. International Journal of Surgery Open 2017;9: 41-44
Siegel L, Albanse CV, Siegel D. Anterior Cruciate Ligament Injuries: Anatomy, Phsiology, Biomechanics, and Management. Clin Journal Sport Medical 2012;22(4):349-355
Bi M, Zhao C, Zhang S, Yao B, Hong Z, Bi Q. All-Inside Single-Bundle Reconstruction of the Anterior Cruciate Ligament with the Anterior Half of the Proneus Longus Tendon Compared to the Semitendinosus Tendon: A Two-Year Follow-Up Study . The Journal of Knee Surgery. 2018.
Gunadham U, Woratanarat P. A retrospective cohort study of anterior half peroneus longus tendon vs hamstring tendon for anterior cruciate ligament reconstruction: A minimm 3-years follow-up. Journal of Orthopaedics Trauma and Rehabilitation 2022;9:1-6.
He J, Tang Q, Ernst S, Linde MA, Smolinski P, Wu S et al. Proneus longus tendon autograft has functional outcomes comparable to hamstring tendon autograft for anterior cruciate ligament reconstruction: a systematic review and meta-analysis. Knee Surgery, Sports Traumatology, Arthroscopy. 2020
Shi FD,Wang XC,Zhao SP,Zhang Y,Li CJ,Meng XG et al. Proneus Longus Tendon Autograft is a Safe and Effective Alternative for Anterior Cruciate Ligament Reconstruction. The Journal of Knee Surgery.2018.
Sakti M, Arifin J, Wonggokusuma G, Arden F, Faidzin M. A comparison of functional knee outcoes post-arthroscopic anterior cruciate ligament (ACL) reconstruction using hamstring and proneus longus (PL) autograft. Bali Medical Journal 2022;11:591-595
Rhatomy S, Asikin AIZ, Wardani AE, Rukmoyo T, Gaol IL, Budhiprama NC. Proneus longus autograft can be recommended as a superior graft to hamstring tendon in single-bundle ACL reconstruction. Knee Surgery, Sports Traumatology, Arthroscopy. 2019.
Saeed UB, Awan J, Manzoor B. Comparison of double Proneus Longus with Quadrupled Hamstring in Primary Anterior Cruciate Ligament Reconstruction. Journal Pak Orthp Association 021;33(4):145-151
Vijay C, Santosh MS, Avinash C, Adarsh T. Is Proneus longus autograft a better alternative to the Hamstring autograft for anterior cruciate ligament reconstruction? – A randomised control study. Journal of Orthopaedics, Trauma and Rehabilitation 022; 29:1-9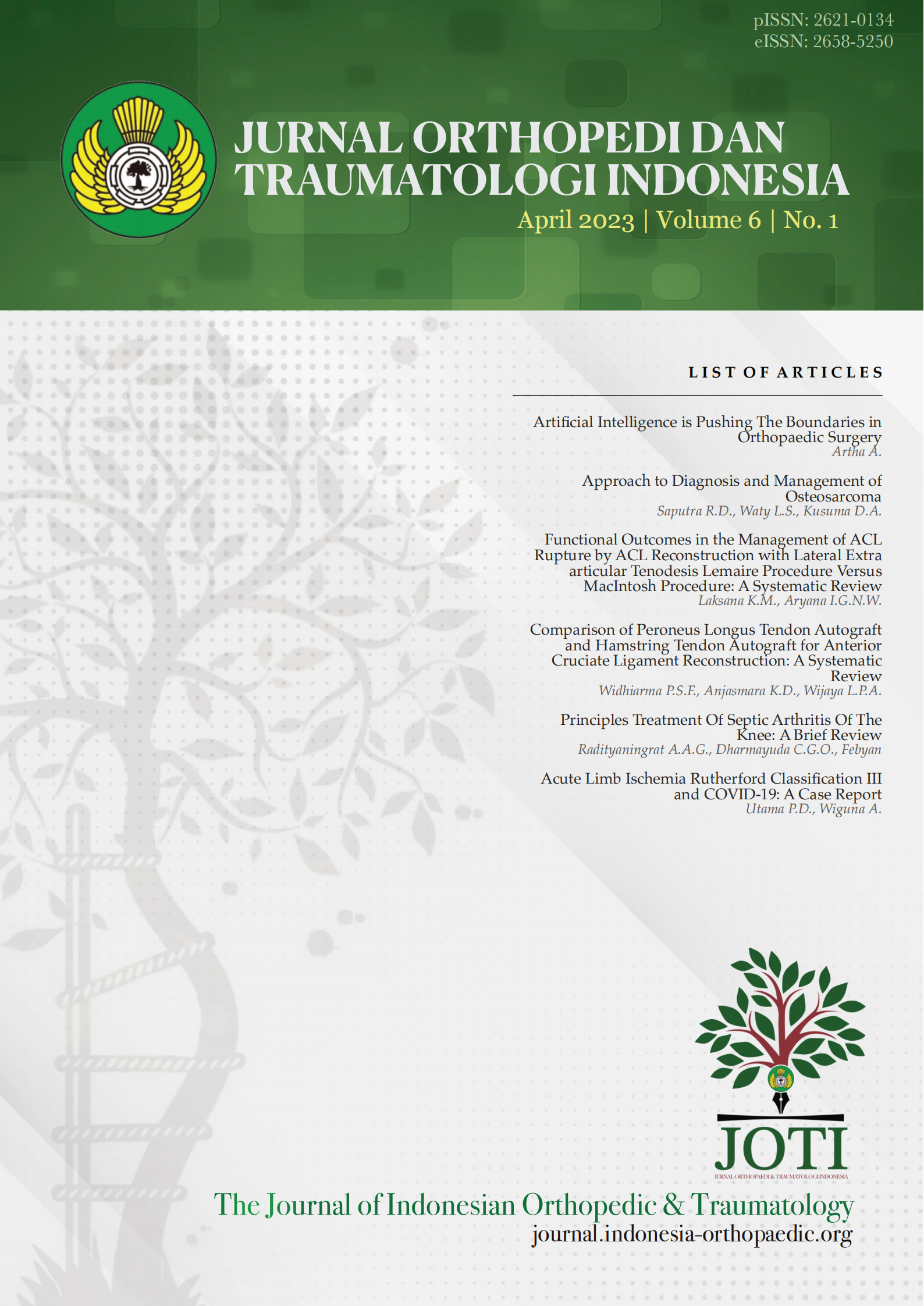 Additional Files