Do scarring of the anterior cruciate ligament rupture to posterior cruciate ligament influences anterior drawer, lachman and pivot shift test results?
Keywords:
anterior cruciate ligament, rupture, scarring pattern, physical examination, arthroscopy
Abstract
Anterior drawer, Lachman and pivot shift tests are commonly used for assessing anterior cruciate ligament (ACL). Relying only on a single test may result in missed diagnosis because some ACL scarring pattern may provide some degree of anterior stability. We present a 20-year old male with complete ACL rupture but positive pivot shift test only, MRI shows total ACL rupture and confirmed during arthroscopic reconstruction with scarring to posterior cruciate ligament. Thorough physical examination may help raise suspicion to ACL remnant scarring pattern in order not to miss ACL rupture in arthroscopy.
Downloads
Download data is not yet available.
References
Duthon VB, Barea C, Abrassart S, Fasel JH, Fritschy D, Ménétrey J. Anatomy of the anterior cruciate ligament. Knee Surg Sport Traumatol Arhtrosc. 2006;14:204–13.
Dallo I, Chahla J, Mitchell JJ, Pascual-Garrido C, Feagin JA, LaPrade RF. Biologic approaches for the treatment of partial tears of the anterior cruciate ligament: a current concepts review. Orthop J Sport Med. 2017;5(1):1–9.
Scholten RJ, Opstelten W, van der Plas CG, Bijl D, Devillé WL, Bouter LM. Accuracy of physical diagnostic tests for assessing ruptures of the anterior cruciate ligament: a meta-analysis. J Fam Pract. 2003;52(9):689–94.
Benjaminse A, Gokeler A, van der Schans CP. Clinical diagnosis of an anterior cruciate ligament rupture: a meta-analysis. J Orthop Sports Phys Ther. 2006;36(5):267–88.
van Eck CF, van den Bekerom MP, Fu FH, Poolman RW, Kerkhoffs GMMJ. Methods to diagnose acute anterior cruciate ligament rupture: a meta-analysis of physical examinations with and without anaesthesia. Knee Surg Sport Traumatol Arthrosc. 2013;21(8):1895–903.
Leblanc M-C, Kowalczuk M, Andruszkiewicz N, Simunovic N, Farrokhyar F, Turnbull TL, et al. Diagnostic accuracy of physical examination for anterior knee instability : a systematic review. Knee Surg Sport Traumatol Arhtrosc. 2015;23(10):2805–13.
Crain EH, Fithian DC, Paxton EW, Luetzow WF. Variation in anterior cruciate ligament scar pattern: does the scar pattern affect anterior laxity in anterior cruciate ligament-deficient knees? Arthrosc - J Arthrosc Relat Surg. 2005;21(1):19–24.
Katz JW, Fingeroth RJ. The diagnostic accuracy of ruptures of the anterior cruciate ligament comparing the Lachman test, the anterior drawer sign, and the pivot shift test in acute and chronic knee injuries. Am J Sports Med. 1986;14(1):88–91.
Décary S, Ouellet P, Vendittoli P-A, Roy J-S, Desmeules F. Diagnostic validity of physical examination tests for common knee disorders: an overview of systematic reviews and meta-analysis. Phys Ther Sport. 2017;23:143–55.
Torg JS, Conrad W, Kalen V. Clinical diagnosis of anterior cruciate ligament instability in the athlete. Am J Sports Med. 1976;4(2):84–93.
Jakob RP, Stäubli HU, Deland JT. Grading the pivot shift. Objective tests with implications for treatment. J Bone Jt Surg. 1987;69-B:294–9.
Takahashi T, Ohsawa T, Hagiwara K, Kimura M, Takeshita K. Femoral attachment of anterior cruciate ligament remnant tissue influences the stability of the anterior cruciate ligament-injured knee in patients over 40 years old. Asia-Pacific J Sport Med Arthrosc Rehabil Technol. 2017;9:1–5.
Nagai K, Araki D, Matsushita T, Nishizawa Y, Hoshino Y, Matsumoto T, et al. Biomechanical function of anterior cruciate ligament remnants: quantitative measurement with a 3-dimensional electromagnetic measurement system. Arthrosc J Arthrosc Relat Surg. 2016;1–8.
Bach BR, Warren RF. "Empty Wall" and "Vertical Strut" Signs of ACL Insufficiency. J Arthrosc Relat Surg. 1989;5(2):137–40.
Drakos MC, Warren RF. My Approach to Anterior Cruciate Ligament Injuries. Oper Tech Sport Med. 2009;17(1):11–5.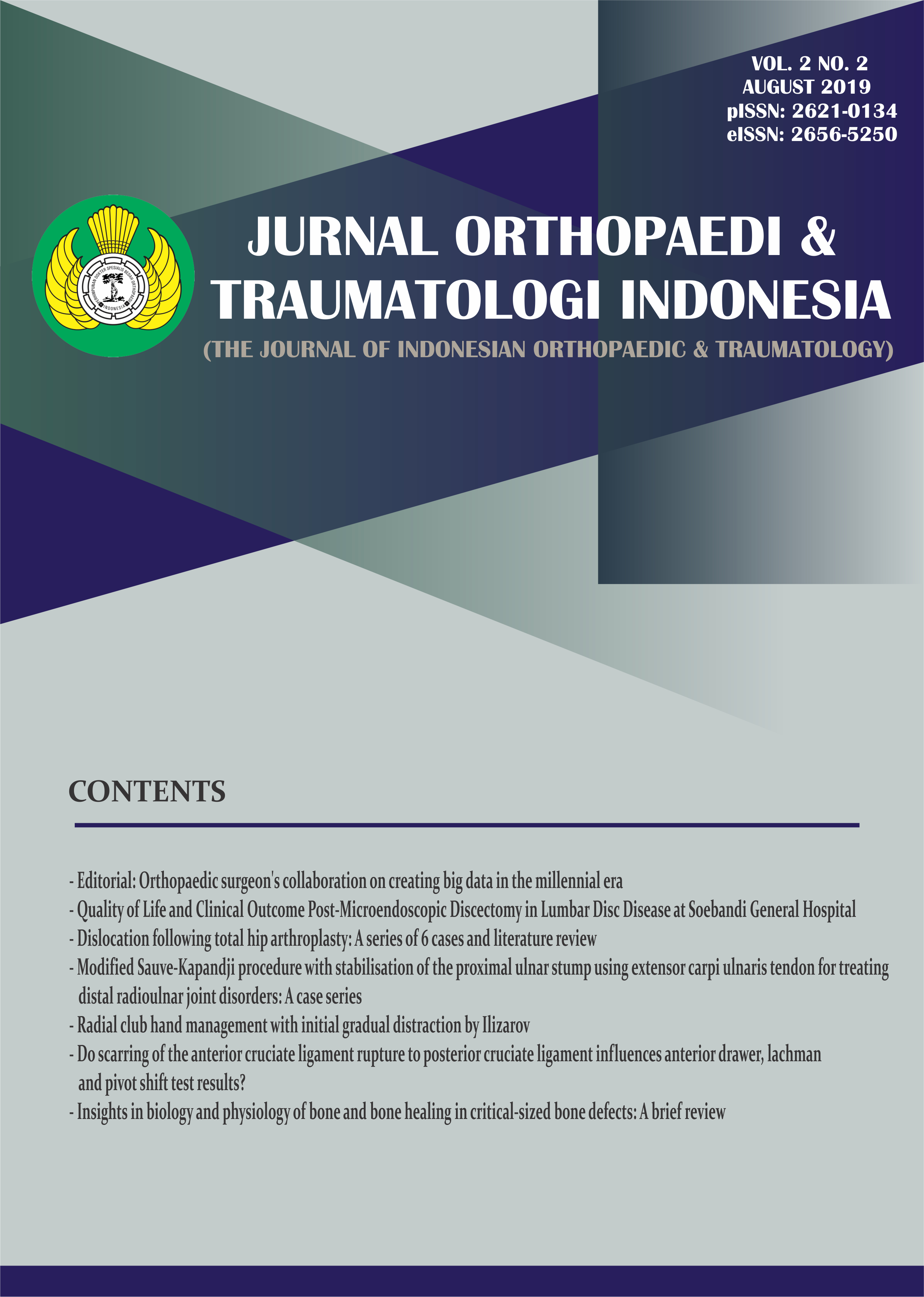 Additional Files